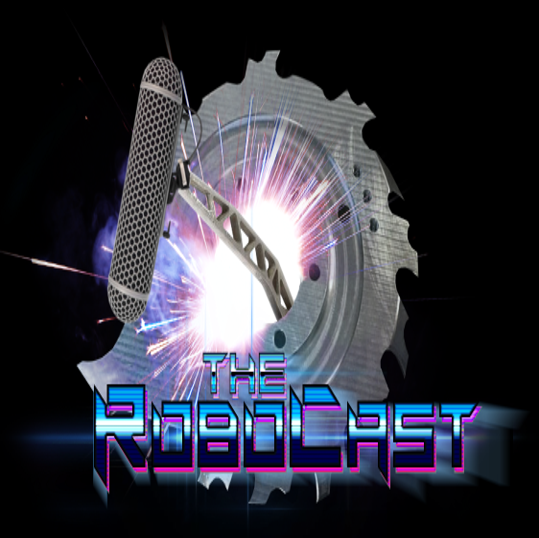 Thumbnail Photo Credit: JCRB Photography. Go and check out Jon's fantastic images! Links Below:
https://jcrbphoto.com/
https://www.facebook.com/jcrbphoto/
https://www.instagram.com/jcrbphoto/
Episode Title: Back2Back
In this podcast, I am joined as ever by Steve the American Killjoy, as we discuss the 16th and final Episode of BattleBots 2019. We're joined in this episode by Stephen McCulla aka VoteSaxon07, and Edward Robinson of the Sharkoprion team!
Be sure to check us out on iTunes and Spotify too! Simply search "The RoboCast" on either of those platforms, and listen to us on the go!
Let us know what your thoughts of the episode in the comments below, we'd love to hear your thoughts!
Time Stamps:
0:00 – Introduction
0:44 – Stephen's work on the Drop Zone
2:50 – Ed's late arrival
10:25 – Tombstone vs Whiplash
15:05 – SawBlaze vs Witch Doctor
20:23 – Bite Force vs Lock-Jaw
24:23 – Semi-final 1
30:57 – Semi-final 2
36:43 – 2019 BattleBots Final
45:19 – Thoughts on the season and the future
51:26 - Outro
Also, a HUGE shoutout to my friend Leo, who designed my fantastic new channel icon and podcast logo! Check him out here:
https://www.youtube.com/channel/UCzilJI3JWxJku3fqeAsKJaQ
My Pages:
https:/twitter.com/SamElliott64
https://therobocast.podbean.com/
https://twitter.com/FlamingoRobot
https://www.facebook.com/FlamingoRobot/
Steve's Page:
https://twitter.com/AKJofficial
https://www.youtube.com/user/AmericanKilljoy
Anderson's Page:
https://www.youtube.com/user/A9132robotwars
Stephen's Pages:
https://twitter.com/Votesaxon07
https://www.facebook.com/Votesaxon07/
https://www.youtube.com/channel/UCKX0bDtjCZ7nXGX1kNyRtGA
Edward's Pages:
https://www.facebook.com/Sharkoprion/
https://www.facebook.com/ExcelsiorBot/
https://www.youtube.com/user/mnkeeboy
Be sure to check out BattleBots too!
https://twitter.com/BattleBots
https://www.facebook.com/battlebots/
https://www.youtube.com/user/battlebots
https://battlebots.com/